Many people lived through the changes in the church beginning in the 60's and became frustrated, saddened, and deeply hurt with the many changes within the Church. In the United States changes to doctrines and interpretations of Scripture started to be preached within Anglicanism and discipline was lost. As the new 1979 Book of Common Prayer was introduced many people began to feel abandoned by the faith of their Fathers as they saw a once wonderful faith abandoned. St. Michael the Archangel is committed to the Church doctrines and interpretations established by the first generations of Christians; as defined in the Creeds, the early Church Fathers, and the Canonized Scriptures as defined by the early church itself.
While there are denomination variances in doctrines and in scripture interpretation, which sadly divide Christians, all Christians are united through our Lord and Saviour Jesus Christ and we must move forward in "charity" one to another while boldly and clearly proclaiming the name of Jesus Christ to the world.
Fr. Michael Cawthon
Rector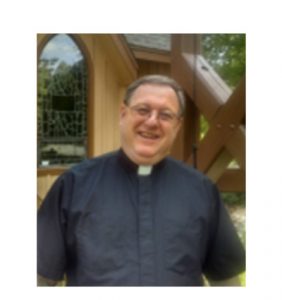 Fr. Michael spent over 30 years in the steel industry (from loading trucks to leading a great company) and realized that his life had an emptiness that could only be filled by serving more fully his Lord. After spending years at St. Michael's as a parishioner, and serving on its "Vestries" and as "Sr. Warden" while performing yard maintenance (oh- how he loved his John Deere), he finally entered into the Province's Discernment program, which changed his life forever. After "discernment" Mike moved into the Postulant Program for the Anglican Province of America.
While continuing work within the secular world, Mike obtained a Master's Degree from the Reformed Theological Seminary, Master of Arts, Religion; thus, "Mike" then became known as Fr. "Michael" once ordained a Deacon in 2013.  Being Priested in 2014, he was instituted as the Rector of St. Michael the Archangel in 2015.
Fr. Michael has been married for over 50 years to his High School Sweetheart, Ms. Debbie Ray Cawthon. God has blessed them with two sons and three grandchildren.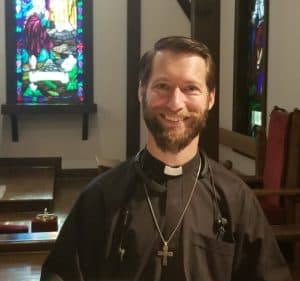 Effective May 1, 2020 St. Michael's is thrilled to have Fr. Allen Fisher joining us as the Curate. Fr. Allen and his family are moving from Atlanta. Ordained a Deacon in 2011 and preisted in 2012, Before coming to St. Michael's, Fr. Allen served as rector for St. Francis Anglican Church and devoted himself to several ministries including ministering to those home-bound and in hospitals and leading Bible studies in Atlanta homeless camps.
Fr. Allen married his wife Kasey in 2006 and has two boys, Noah (8) and Lucas (5).
Staff
Our Priests and Parish are assisted by many people.
Deaconess: Tina Jenkins (APA Sr.) and Debbie Kidd are both set aside to work with our clergy and laity and they both are a great asset to our St. Michael's family.
Administration Secretary:  Susan Stepp
Music Director: D. John Apple, Organist and Choir Master.
Preschool Director: Shonika Bankole
Outreach Programs: Dame Martin & Joyce Allen.
Youth Director: Katie Miller