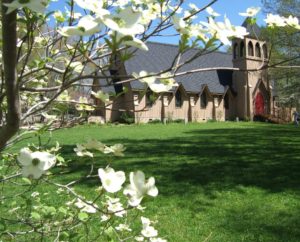 St. Michael the Archangel Anglican Church
Visitors – Welcome!
Peace and joy in our Lord and Saviour Jesus Christ.  Please advise us of your visit and ask for a "First Time Visitor Bulletin" which briefly explains the communion service.  Please join our church family in the Parish Hall after the service for fellowship, drinks, and food.
Trinity Sunday  June 16, 2019
H = 1940 hymnal Hymn # /  B 1928 Book of Common Prayer Page #
Stand    Processional: Hymn # 268
Kneel    Collect for Purity: BCP 67
Introit: Choir
The Summary of the Law: B 69
Kyrie: H 710 or B 70
Collect for the Day: B 186
Sit           Epistle: REVELATION iv: 1: B 186
Stand    Gradual: H 266
Gospel:  ST. JOHN  iii: 1 B 187
Stand    Nicene Creed: B 71
Sit           Notices
Stand    Sermon Hymn: H 271
Sit           Sermon
Alms Collection & Offertory Sentence (Choir)
Stand    Alms Presentation, National Hymn: H 139 & H 141 (v4)
Kneel    Biddings & Intercessions (said by celebrant)
For the Whole State of Christ's Church: B 74
The Exhortations: B 85
Invitation and General Confession: B 75
Absolution & Comfortable Words: B 76
Sursum Corda & Sanctus: H 796 or B 76
Sevenfold Amen
Consecration: B 80
Lord's Prayer: H 722 or B 82
Humble Access: B 82
Agnus Dei                                                                             712
Ecce Agnus PRIEST: "Behold the Lamb of God, behold him that takest away the sins of the world.  Lord I am not worthy that thou shouldest come under my roof;"
People—"But speak the word only and my soul shall be healed."
Communion Hymns: H 204, 344
Kneel    Thanksgiving: B                 83
Gloria in Excelsis: H 713 or B 84
The Blessing: B 84
Dresden Amen  (followed by bells): H 740
Stand    Recessional                                                                          273
Nursery is available for children 5 years and under during the 10:30am service
Acknowledgements and Thanksgivings!
 SANCTUARY CANDLE:  Burns this week to the glory of God by Roger & Virginia Anderson.
ALTAR FLOWERS:  Are given to the glory of God.
 Please come next door to the Parish Hall, after the 10:30 service for fellowship and refreshments.
NEWS AND NOTES:
JUNE  CHANGE-FOR-CHANGE:   St. Francis of Assisi, Jonesboro, Ga
 AIR CONDITIONER UPDATE:
Costs:     $30,935
Donations to Date:        19,445
ORGANIZERS NEEDED:
African Night  –  October 12th                        If interest in organizing, please call Fr. Michael
MEN'S MINISTRY:   Auto-Bell Car Wash tickets available now:  $20.00 each or 3 for $40.00. Limited supply.  Get yours before they are gone.
LADIES LUNCH-OUT:   NY Pizza & Pasta,  624 Indian Trail Rd., Indian Trail.
BIRTHDAYS :  June  17 Carol Alsis;  June  17  Brian Montgomery;  June     17  Andrew Terry
… Upcoming Events:    
Jun         16                  Father's Day
16      10:30 am         Trinity Sunday High Mass
18      1 pm                Ladies Lunch-Out: NY Pizza & Pasta
19      6 pm                Feast of St. Barnabas
27      6 pm                Men's Night-Out:  Beer Temple
29      8 – 11 am        Workday
Jul            4      Noon               Independence Day Eucharist
13                              Patrice Graham Funeral Service
15 – 19          Synod
16      1 pm                Ladies Lunch-Out
19                              Youth Group Trampoline
SCHEDULE FOR NEXT WEEK:      July 8, 2018
Nursery:   10:15 am         Help needed
Ushers:      8 am                 Bob & Betty Self
10:15 am         Dame Martin, Tommy Johnson
Altar Guild:                         Debbie Cawthon
OUR GRADUATES:
Amira Thomas                                    Wesley Chapel Elementary
Angaline Correal                                Parkwood High School
Lizzy Hanson                                       CC Griffin Middle School
Patrick Donnelly
Ray Cawthon                                     South Charlotte Middle
Rhiana Williams                                 Cuthbertson High School
Steven Vandirly
MUSIC NOTES:
Prelude            Toccata on the Doxology                                   Darwin Wolford
Louis Bourgeois (1510-1559), a French disciple of the Swiss reformer John Calvin composed tunes for the French Psalter in 1561. Several of his tunes are used today, including Old Hundreth (the Doxology sung weekly). The tune is heard in a lively setting by Darwin Wolford (b.1936), retired Ricks College (Idaho) music professor.
Introit   
Blessed be the Holy Trinity, and the undivided Unity: let us give glory to Him because He hath shown His mercy to us.(Psalm 8:1) O Lord, our Lord, how excellent is thy name in all the earth!
Offertory
(Psalm 48:8) We have heard, so have we seen in the city of the Lord of Hosts, in the city of our God: God will establish it for ever.(Psalm 48:10) According to Thy name, O God, so is Thy praise unto the ends of the earth: Thy right hand is full of righteousness.
Adoro te devote                                                 Richard Keys Biggs
The hymn during communion, #204, is a 13th century chant to a translation of the Latin eucharistic poem by St. Thomas Aquinas, 13th century Italian Dominican priest. The setting is by Richard Keys Biggs (1886-1962), organist/director at Hollywood's Cathedral of the Blessed Sacrament.
Postlude              Holy God, We Praise Thy Name                                   Max Reger
The hymn "Holy God, we praise your name" is a metrical version of Te Deum laudamus, a hymn that dates to the 5th century. The text and tune of the recessional hymn were published in the Catholic Songbook in Vienna in 1774. The organ setting is by Max Reger (1873-1916), professor at the Leipzig Conservatory and composer of organ/choral/orchestral music.
Be it known to all who enter this Holy Place, that the Blessed Sacrament of the Body and Blood of our Lord Jesus Christ is reserved in the Tabernacle.  A genuflection, being the proper reverence before His Presence, is expected of all the faithful.  Leave not without worshiping and adoring Him upon His Altar Throne.
Holy Communion:If you have been confirmed by a Bishop in Apostolic Succession, you are invited to receive the Blessed Sacrament.  If not, but are a Baptized Christian, please come to the Altar Rail for a blessing (simply cross your arms over your chest when the Celebrant approaches.)  If you have questions, please speak to the clergy.
Note from Fr. Michael:
Our website www.stmichaelsanglican.org  is a major source of information, communication, as hours are spent weekly posting articles and information for our church and of our faith.  To give you an idea of what can found, just in our blog section (which you go to through the homepage), the following has been added just this past week:
The Lord's Prayer: changes suggested by Pope Francis are discussed as the "AND LEAD US NOT INTO TEMPTATION" verse is reflected upon via scripture and Anglican thought.
Next weekly calendar (week of June 16th) is posted and is expandable, so viewable on phone.
The Bulletin blog edition.
Musical Notes
Video of latest 10:30 service.
This website acts as a "news – letter" and is updated every week, thus visited weekly, if possible by the congregation.  Everything from the new "Confirmation Class" workbook to articles and postings on seasonal topics – to theological discussions, all can be found.  It is there for you, please use it.PARISH PRAYER LIST
PARISH PRAYER LIST:
✟The Anglican Church: Our St. Michael's family, Deanery, Diocese, Anglican Province of America, Anglican Catholic Church, Anglican Church in America, Deus of the Holy Cross, our Bishops, Rector, Clergy & their families, and that many men are called to the sacred Ministry.
✟ Our Country, its Leaders, Fire and Police Departments & those in military service: Andrew, Adam, Edwin, Daniel, Mark, Conner, Caleb, Dannte, Brian, Dustin, Brett, Kegan, Charles, Robert, James, Gavyn.
✟Pregnancy: Brook
✟ Those Traveling: Ralph, Scott, Dana, Frank, Lee, Tony, Jeff, Stephen, Nance, Mike, Kristin, Will.
✟Guidance & Protection: Destinn, Conner, Donald, Christopher, Karl, Phyllis, Dame, Kristin, Blonnie, Tommy, Linda, Claude, Ben, Henry, Mary, Josiah, Stoch, Roy, Brett, Kelechi, Christopher, Margaret, Henry, Tom, Nick. The Washburn, Burgess, Drake, Oldfield, Howard, Morton, Graham families. ✟ In Affliction: Jerry, June, Roger, Virginia Gayle, Trudy, Pat, Wayne, Harry, Edna, Pat, Rich+, John, Doreen, Desmond, Yvonne, Dame, Meredith, Jennifer, Janet, Robert, Runyan, Vivian. Wanda, Shannon, Marie, George.
✟The Lord's Healing: Aurora, Ava, Ana, Thomas, Tina, Nick, Simeon, McKenzie, Pat, Jayden, Seth, Stephen, Sarah, Marie, Phillip, Savana, Renee, Samantha, Madonna, Tenneh, James, Jeannie, Brock, Kevin+, George+, +Jack, Michael+, Dennis+.
Church Services & Key Activities the week of June 16th:
Sun:     8 am       Said Eucharist                       10:30 am   Sung Eucharist
Mon:    6 pm    Ladies Evening Prayer
Tue:     10 am  Morning Prayer                            6 pm               Evening Prayer / Eucharist  1 pm    Ladies Lunch-Out            7 pm       Choir Practice
Wed:   10 am Morning Prayer                       6 pm       Evening Prayer / Eucharist
Thu:     10 am  Morning Prayer                       Noon          Eucharist / Fellowship
The Vestry:
Sr. Warden:  Ed Stemborowski                      Jr. Warden:  Brett Ford
Carol Alsis                  '21         Laurna Blackwood   '20          Margie Schlier                 '19
Frank Ihekaire            '21         Randall Burgess        '20          Brett Ford                        '19
Sylvia Jack                   '21         Pam Driscoll              '20         Michelle Montgomery   '19
Eastern Diocese of the Anglican Province of America:
The Most Rev. W. H. Grundorf, Diocesan
The Rt. Rev. Chad Jones, Suffragan Bishop
The Rt. Rev. Bill Perkins, Suffragan Bishop
The Rt. Rev. David Haines, Missionary Bishop
The Rev. O. Michael Cawthon, Rector
The Very Rev. Can George Harding, Ret.
Dss. Tina Jenkins, APA Sr. Deaconess
John Apple,  Organist & Choir Master
Shonika Bankole,  Preschool Director
Lou Hale, Phyllis Vail, Sandra Scherer, & Susan Stepp:  Bible Women
Dame Martin & Joyce Allen:  Outreach Programs
Susan Stepp & Sandra Scherer:  Worship Preparation
Church office:  704-537-7777     Rectory:  704-531-9306
www.stmichaelsanglican.org                 stmichaelcharlotte@yahoo.com
Rector:  Fr. Michael's Cell:  704-651-9070      frmichaelcawthon@gmail.com
St. Michael's:  2211 Margaret Wallace Road, Matthews, NC 28105